New travelers to Thailand seek a tropical paradise getaway, and frequently the only destination you've heard about from the magazines and the TV shows is Phuket. But after living in Thailand for two years and experiencing much of the country, I always recommend that my friends spend their precious time instead in Krabi province rather than on Phuket, which has become overdeveloped and overrun with tourists and girlie bars. In particular, in all of my travels to 25+ countries, my favorite (and the most beautiful) place I have found so far is Railay.
(See my tips for first-time travelers to Thailand for more.)
Railay Beach—also frequently referred to as Rai Leh or Rai Lay—is a small peninsula just south of the town of Ao Nang, Krabi. It's attached to Krabi's mainland, but cut off by towering limestone cliffs from all the roads and towns.
This isolation from the mainland, and the complete absence of cars and roads, gives Railay Beach a very island feel. This idyllic beach setting attracts thousands of visitors every year, and Krabi is famous around the world with rock climbers for the stunning limestone rocks on Railay and neighboring Ton Sai Beach.
There are three sides to the Railay Beach peninsula. West Railay Beach, also called Sunset Beach by some, and Phra Nang Beach on the south-facing side of the peninsula, are among the best, most stunning white sand beaches in Thailand, surrounded by beautiful emerald clear water. The resorts and hotels on these two beaches are more expensive, but there are also cheaper hotels and bungalows available on the mangrove-lined East Railay Beach, within around 10-15 minutes' walk from the main beaches.
You can spend a relaxing day lazing by the pool or on the beach. Or if you're looking for more adventure, you can try rock climbing with some of the best instructors in the world. There are many local climbing schools that can outfit you with climbing shoes and equipment, and lead you on trips for everyone from beginners to advanced climbers.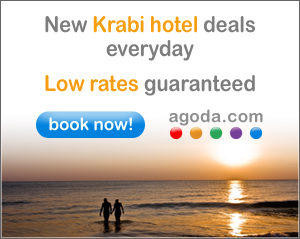 Railay Beach is often the idyllic tropical paradise featured in posters and postcards of Thailand, so don't forget your camera. On Phra Nang beach you'll find a small cave shrine filled with phallic statues dedicated to the deity Sri Kunlathewi, a legendary Indian princess who was wrecked along the Krabi coastline in the 3rd century B.C. and has been invoked by local fishermen ever since to provide a bountiful catch. Adventurous travelers can climb a ragged jungle path up this impressive karst cliff to discover a hidden lagoon and an eagle-eye viewpoint high over East Railay Beach.
At night Railay is fairly quiet, but with a several cozy little beach bars—some romantic spots to share a cocktail by candle light, some lively, reggae-style bars that stay open late with live music and exciting fire shows on the East Beach. The girlie-bar scene is also completely absent from Railay Beach, since the majority of visitors here are families and younger backpackers, which makes for a nice change of pace from many spots in Thailand.
Railay Beach, Krabi Image Gallery